Seth Moulton
.
| | | |
| --- | --- | --- |
| | Admirers of folk art are lucky if they have a Seth Moulton piece in their collection. Capturing the daily goings-on of rural life in the North Country, Seth's paintings compel the eye with a primitive and strongly narrative style. A trademark Seth Moulton piece often has his scrawlings on them—not just at the bottom, but right on objects in the composition so as to identify them for the viewer. That he frequently misspelled all but the simplest of words—sometimes even his own name—adds to the charm of the works of this North Country original. Seth was very prolific, and his palette made use of a lot of natural materials. He lived most his years near Winthrop, but was originally from Vermont, where he worked aboard the famed steamboat Ticonderoga, now being restored at Vermont's Shelburne Museum. Seth lived into his eighties, his legacy hanging on the walls of homes throughout the New York North Country. The Potsdam, NY public library holds a small collection of his works. | |
.
.
"INTRESTED"
"SETH MOULTON"
.
.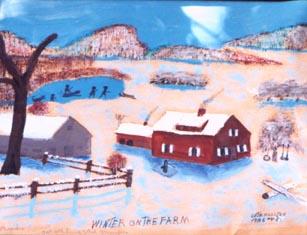 "WINTER ON THE FARM"
"Francis LaPlant our old Home Stead Grandpas"
"SETH MOULTON"
"FEB 6 age 81"
.
.
"JOE SELTZ AND I TOTING FROM LITTLE TUPPER
LAKE TO ROCK POND LUMBER CAMP 'WHAT'S
THE MATTER JOE?' 'GEES, I CANT SEE BEHIND ME'"
(on far left barrel): "SYRUP"
"SETH MOULTON"
.
.
"Brown" (perhaps referring to brown
bear or bruin to right of cabin)
"SETH MOULTON"
.
.
"WILLAM KEEGANS BLACK SMITH SHOP"
"1902 SETH MOULTON"
(referring to my great-grandfather William Keegan's
blacksmith shop in Winthrop as it might
have appeared in 1902)
.
.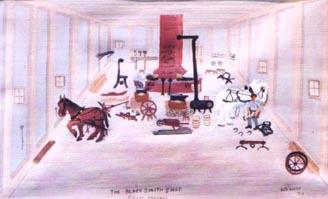 "THE BLACK SMITH SHOP"
"BILLIE KEEGANS"
"SETH MOLTON 1968"
(on chimney): "IN GOD WE TRUST
ALL OTHERS PAY CHASH"
.
.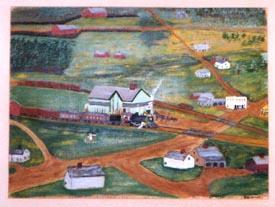 "WINTHROP 1898"
"SETH MOULTON"
(Along the bottom, from left to right):
"TAYLOR HARNESS SHOP"
"ED RUSSEL STORE"
"SHAYS STORE"
"MILLERS STORE"
"BILL HAMILTONS"
.
.