NEW YORK STATE CHAMPION
NORTHERN WHITE CEDAR
AND HOPHORNBEAM
(NOT YET OFFICIAL)

test



The other day while horbgorbling the woods and swamps in a local state park drinking beer and idly looking at things, an extraordinarily thing happened. I stumbled into two State champion trees, both standing within 300 feet of each other! I didn't really run into them because I wasn't yet drunk, but by golly they sure appeared out of nowhere fast.


I had wandered into an ancient grove of huge cedar trees, and my beer-induced reverie summoned a memory of what Milt Beiber, the park's naturalist, once whispered to me about an old growth stand of cedars cloistered in a remote, seldom-trodden corner of the park. Based on his many years observing dendrological oddities and superlatives, Milt had posited that the grove of cedars may very well contain some of the oldest such specimens in entire State. Reflecting on Milt's speculations, I immediately became aware I had unwittingly discovered the old grove, and in front of me, lo! — was a gargantuan Northern White Cedar! I composed myself with a cigarette and another beer, and while guzzling the beer, out of the corner of my eye I caught a glimpse of something unusual. It was another tree. Not a Cedar, but a gnarly-looking specimen that, by it's distinctive curly peeling bark, I instantly recognized as an Eastern Hophornbeam — and in four swallows of beer I had found two new candidates for the New York State Big Tree list.


The very next day, equipped with a camera, a tape measure, climbing gear, and a six-pack of beer (to be drunk after climbing), I began to prepare Onondaga County for two new claims to the New York State Big Tree List. See pics below.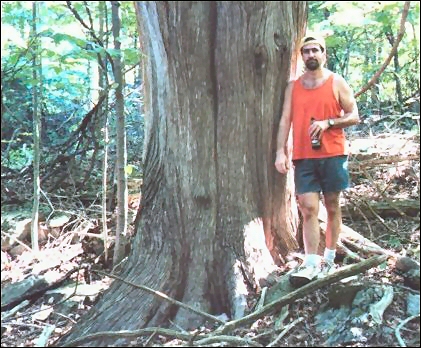 Northern White Cedar Thuja occidentalis

Girth: 139 inches.
Height: 55 feet.
Avg. Crown Spread: 24 feet.

Location: Clark's Reservation, Jamesville, NY
N 42° 59.605´ W 76° 05.123´

Total Points: 139 + 55 + 6 (1/4*36) = 200
Current NYS champion: 172 points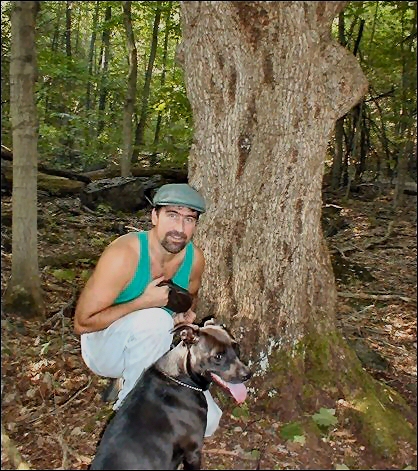 Eastern Hophornbeam Ostrya virginiana

Girth: 84 inches.
Height: 54 feet.
Avg. Crown Spread: 36 feet.

Location: Clark's Reservation, Jamesville, NY
N 42° 59.551´ W 76° 05.114´

Total Points: 84 + 54 + 36 (1/4*36) = 147
Current NYS champion: 144 points